A sustainability project: the bicycle- trailer is for transporting and displaying home grown vegetables at local markets.
More people should be encouraged to use cultivation plots and sell the surplusage from home grown food at markets. I want to offer a sustainable solution to encourage this process.
The trailer is designed to fit the standardized crates from Svenska Retursystemet.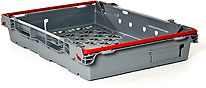 Instead of using a heavy and bulky table surface the trailer displays the crates on top of foldable supports. This system is easy to operate and allows a comfortable working position for the seller.